Download
Download file and products catalogue for lab testing equipment, including including Footwear Testing Equipment and Textile Testing Equipment and Toys Testing Equipment and Furniture Testing Equipment.
contact us
If you have questions, please contact us, all questions will be answered
Tel : +86-595-22515230
Fax : +86-595-22515221
Email : info@gester-instruments.com
products
Colour Fastness & Fabric Washing Fastness Tester GT-D07
Product Origin:

China

Brand:

GESTER

Item No.:

GT-D07

Certificate:

ISO 9001, UKAS, CE

Standard:

ISO 105, AATCC 151 etc

Shipping Port:

China Port

Lead Time:

Have in stock
contact now
Download
Fabric Washing Colour Fastness Tester GT-D07
Product Introduction of washing fastness tester
Application:
This Washing Fastness Tester apply to test dyeing textile color fastness changing degree after washing, it not only do washing color fastness and also dry washing color fastness test.
Standards:
ISO105-C01, C02, C03, C04, C05, C06, C08, C09, C10, D01, E03, E12
GB/T 5711, GB/T3921-1 to 5, GB/T12490 ; AATCC 3, 61, 62, 86, 132, 151, 190
JIS L0860, JIS L0844, JIS L0879; M&S C4A, C5, C37, P3B; BS 1006 NEXT 2,3,5
IWSTM 7,115,177,193, 240, 241; FTMS 191 Method 5610/5622
Dimensions

of washing fastness tester
Feature

of washing fastness tester

1. This wash fastness tester design parameter conform to ISO, BS, AATCC, JIS & SDC those standards.
2. This washing fastness tester's box and its test cup adopt stainless steel material, it have anti-high temperature, acid-base, corrosion functions.
3. Equip with door safety switch, can protect from burning or injured.
4. Equip with procedure time counter, digital temperature controller, auto temperature & time control, it has alarm hint while experiment ending.
5. Can customize cup compound mode according to customers requirements.
Key Specifications

of washing fastness tester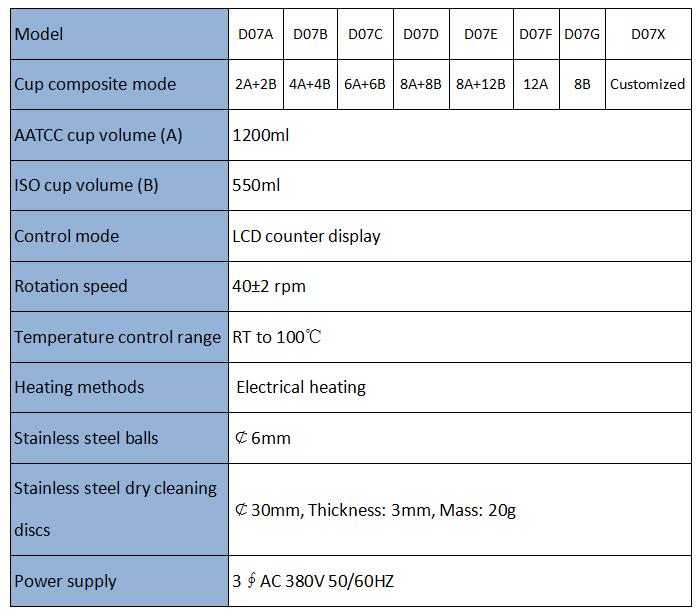 Accessories of washing fastness tester
Application Industry

of washing fastness tester

All kinds of materials can be tested on the Washing Fastness Tester.
inquiry now
We will give you a quotation within 24 hours.